Comedy at Maha Festival 2022
Headliner Amy Miller and many more will light up the Millwork Arts Lounge.
March 25, 2022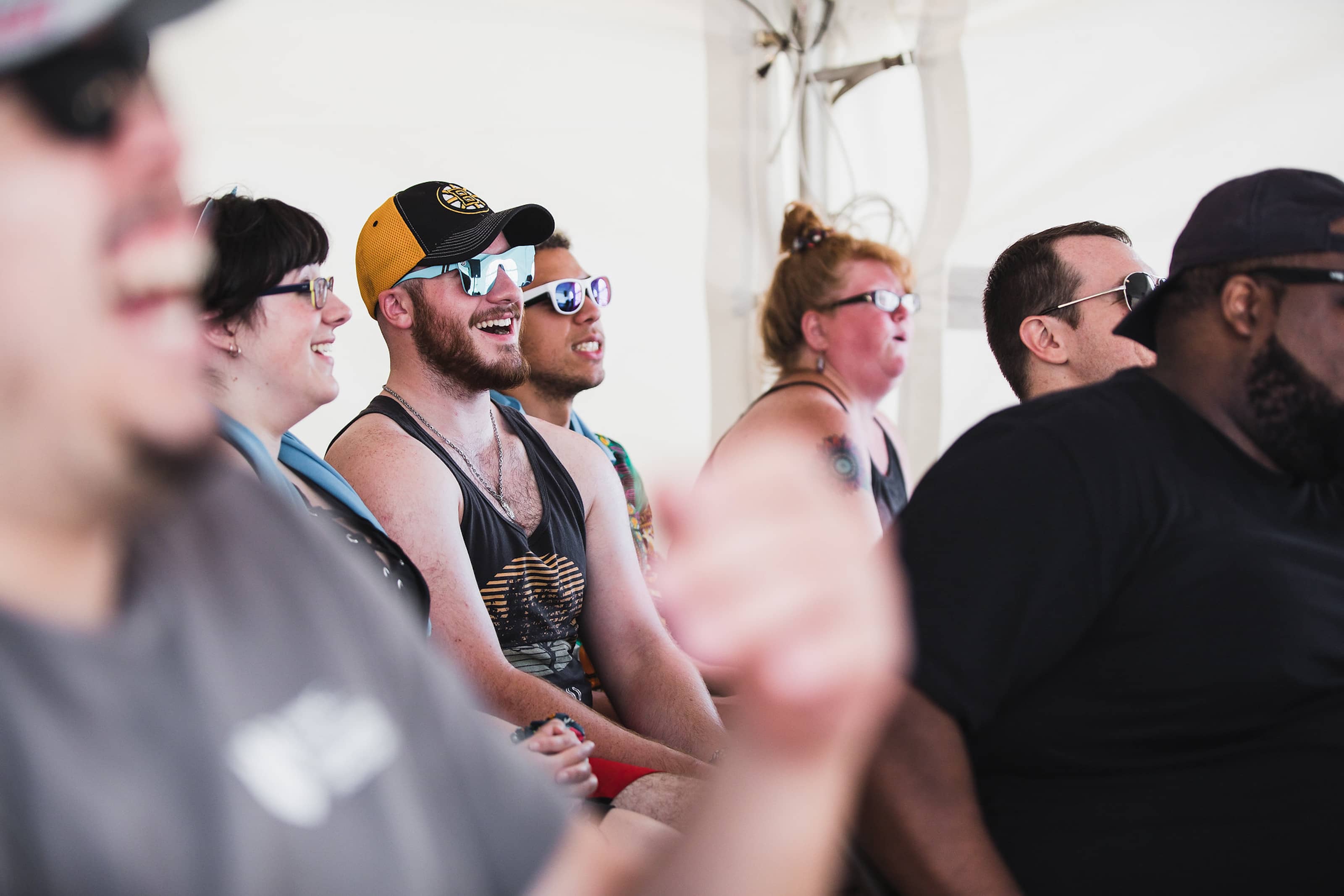 Live. Laugh. Love. Be sure to spend some time in the (air-conditioned!) Millwork Arts Lounge as part of your Mahadventure this July!
Comedy performances will take place Friday, July 29 from 7 to 8:30 p.m. and Saturday, July 30 from 3 to 4:30 and 6:30 to 8:30 p.m. at the Millwork Arts Lounge.
Special thanks to Broken Magic Comedy.
Amy Miller
Amy Miller recently debuted her Half Hour Comedy Central special "Ham Mouth," and was one of Comedy Central's "Up Next" comics. As a brand new comic, Amy was a breakout favorite and semi-finalist in the final season of Last Comic Standing. She has a half hour comedy special on Epix's Unprotected Sets and her Comedy Central Presents set has been viewed over 3 million times on Youtube and Facebook. She was also a featured comic on Viceland's Flophouse. On Last Comic Standing, Keenen Ivory Wayans said she had one of the "fiercest jokes he had ever heard." Originally from the East Bay, Amy found her comedy chops in Oakland and is still a regular at the SF Punch Line and Cobb's Comedy Club. Her material is personal, political, and 100% authentic. The Laugh Button says "She found a wildly creative way to find empowerment while simultaneously sparking laughter" and Courting Comedy says "Miller juxtaposes an unassuming demeanor with unflinching assurance." After a move to Portland, Amy quickly rose to the top of the Pacific Northwest comedy scene, winning Portland's Funniest in Helium's 2015 contest, as well as being voted Portland's Funniest Comedian for 2013 and 2015 in the Willamette Week. She was the first woman to win each position and the only one to win all three. 
Amy's debut album Solid Gold is available on Kill Rock Stars, and was named one of the top 10 comedy albums of 2016 by The Interrobang. You may have also seen Amy on Viceland or heard her on Sirius XM, NPR, Doug Loves Movies, The Adam Carolla Show, The Bennington Show, Put Your Hands Together, All Fantasy Everything, Keith and the Girl, or her own podcast "Who's Your God?." 
Amy is a nationally touring festival and comedy club headliner, and she has performed in the Moontower Comedy Festival, Bridgetown Comedy Fest, SxSW, the High Plains Comedy Fest, Laughing Skull, Big Sky, San Francisco Sketchfest, the Bumbershoot Festival and more.
Dante Powell

Dante Powell, where do we even start. Okay, he is a stand up comedian. Good start. He is based in Des Moines, Iowa but grew up in Bernice, Louisiana. His work has been featured on SiriusXM radio, NPR, and kweliTV. His comedy album "The Squirrels Get Fat" debuted at #1 on the iTunes/Amazon comedy charts. What else is there? Oh, he has been a regular at many of the comedy venues you frequent. Clubs, bars, theaters, he does them all! Thank you for reading this bio. 
Zach Peterson
Based out of Omaha NE, Zach Peterson has made a name for himself around the country for being "an affable oddball" with razor sharp jokes. Many of these jokes can be heard on his debut record "Midwestern Jokes of The Americas" which debuted in the top ten of the comedy charts on Itunes in 2018. He has crisscrossed the country many times, working with comics like Tom Papa, Joe DeRosa, Mary Mack and Kyle Kinane. Zach has been selected for countless festivals including the prestigious Laughing Skull Comedy Festival, The Limestone Comedy Festival and The High Plains Comedy Festival. When he is not crisscrossing the United States performing at clubs, theaters, and wherever else will have him, Zach  produces and hosts the Arguments and Grievances Podcast that has been featured at numerous festivals, on Audible.com, and named "Best Variety show in Chicago 2014" by Chicago Magazine and called by The Chicago Tribune, "smart, high-stakes tomfoolery disguised in a brilliant, faux-brainy conceit…This show is a riot."
Cameron Logsdon
Cameron Logsdon is a writer/performer specializing in stand-up and sketch comedy. He's earned millions of views on social media for his celebrity impressions and short videos parodying everything from politics to pop culture. In 2016, he was selected for NBC's Late Night Writer's Workshop, a program aimed at helping writers of diverse backgrounds. He performs in comedy clubs, colleges, and for corporate events all of which help pay off his student loans. Cameron is a mixed-race minority that grew up in the Midwest, was a teen father, and draws from his personal experiences to inform his stand-up comedy and social media content which you can check out @CameronLogsdon on YouTube, Instagram, and TikTok.
TikTok – @CameronLogsdon  |  Twitter – @CameronLogsdon  |  Insta  – @cameronlogsdon
Melanie Mackey
Mel Mackey is an "overwhelming ball of energy" from Des Moines, Iowa. She uses comedy to pursue her constant need for attention. With a background in theatre, improv, cheerleading and gymnastics and a long career planning weddings, she just wants everyone to have a good time. She has performed standup across the midwest and hosts the weekly Open Mic at Teehee's Comedy Club in Des Moines. Whether you're horny, hungry, or worried that everyone's mad at you, you're sure to find her bubbly demeanor either deeply relatable or destructively annoying.
Angi Sada
Born in the dead center of god's blind spot, Omaha based Angi Sada has performed across the country. Her take on life, love and politics is acerbic on its most hopeful days. Angi has received nominations from the Omaha Entertainment & Art Awards for her work and also once won 10lbs of Polish sausage at the St. Columbans Fathers festival when she was 10. She is a co-founder of the Funny Ladies of Omaha and FemmeBot, Nebraska's longest-running all femme comedy show embracing the many faces of femininity. She's proud of her Latin roots and unabashedly talks about growing up brown in a really white world. Angi is generally unapologetic in everything she says and does including licking the cheese powder off of the Doritos and putting them back in the bag as a child.
Mike Perry
Mike Perry lives in Omaha, NE and has booked and performed stand-up on shows and festivals all over the country. He has appeared on the Competitive Erotic Fan Fiction and Doug Loves Movies podcasts. This will be Mike's 9th year performing on the comedy stage at the Maha Music Festival (which is probably a record if anyone is keeping track). He would like to say that he provides biting social commentary, but mostly he's obsessed with Juggalos and magicians. One time a guy that looked like Ric Flair tried to fight Mike during a set and he's never felt more alive.