Dive Into This Year's Artists
Essential facts about who you'll be seeing on July 31.
May 24, 2021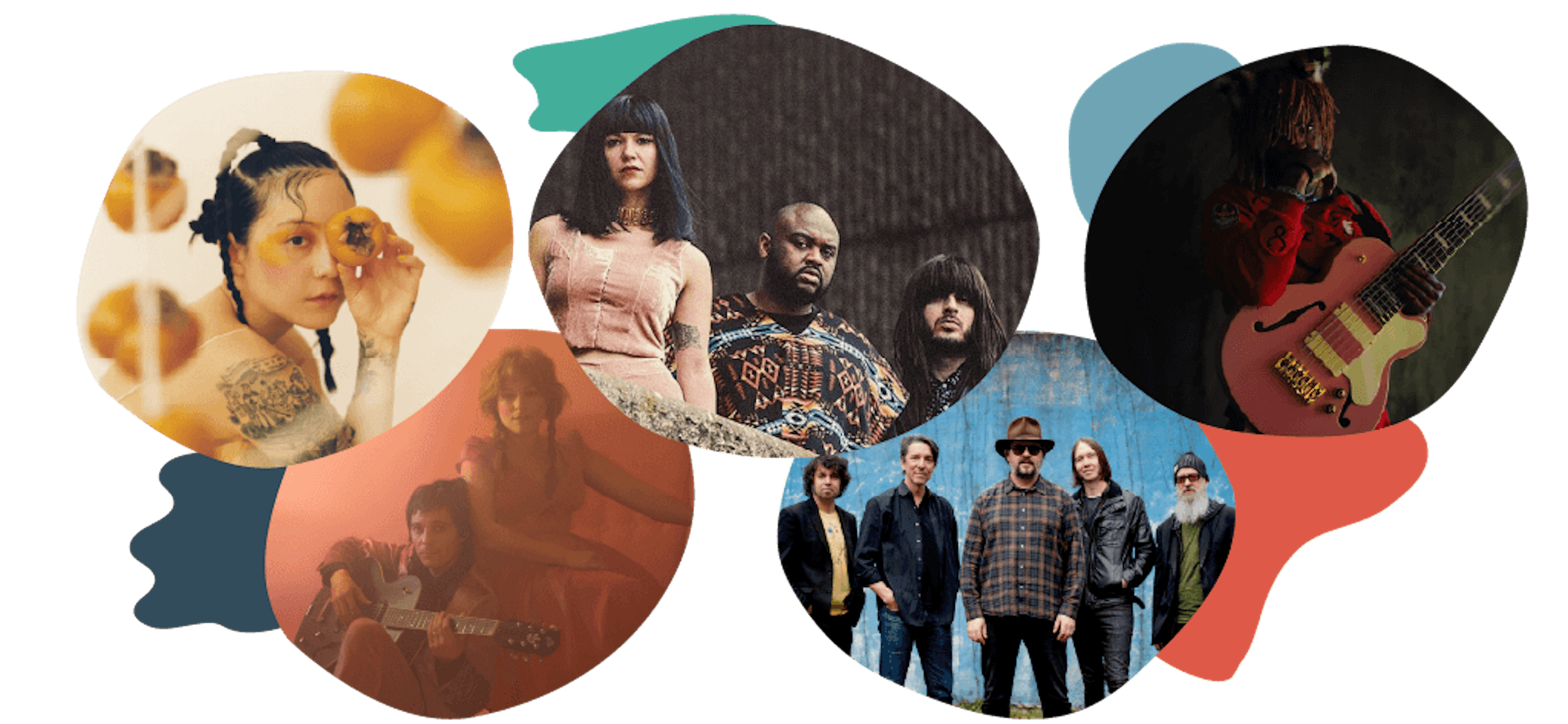 A globetrotting Texan trio. A 2021 Grammy Award winner. A band going strong for more than 25 years. Here's more proof the 13th Maha is not to be missed.
While you're diving in, check out the official festival playlist. 
Khruangbin
So far this year we've seen a Paul McCartney collaboration, followed by selling out several shows from LA to Austin to Atlanta. It's shaping up to be a busy one for Khurangbin (pronounced KRUNG-bin). This trio from Texas — whose name translates to "airplane" in Thai — plays music described by The New York Times as "an atmospheric collage of global subgenres, including reggae dub, surf-rock, Southeast Asian funk and Middle Eastern soul." 
Check out the r/Khruangbin community on Reddit for a deep dive into fan trivia. 
Thundercat
You'll notice Thundercat in several high-profile festival spots this season, delivering vivid, memorable, bass-centric performances all across the country. Thundercat, aka Stephen Lee Bruner, earned a Grammy Award for Best Progressive R&B Album for his fourth studio album, last year's It Is What It Is. 
His last performance in Omaha was a particularly memorable sold-out show at The Slowdown on March 13, 2020, right on the eve of coronavirus lockdowns. 
Japanese Breakfast
Lo-fi experimental pop artist Michelle Zauner will play Maha in the midst of a nationwide tour in support of her highly anticipated third album, Jubilee. Dancey insta-classics like "Be Sweet" and "Savage Good Boy" will bring a breathtaking vibe to Maha Festival at dusk. 
Zauner is also a New York Times bestselling author, thanks to the recent high-profile release of her book, Crying in H Mart: A Memoir. 
Drive-By Truckers
This alt-country/Southern rock band has been active since 1996, earning a solid spot at the top of many "favorite band" lists through their constant touring and high-energy shows. Not known for being idle, they released not one, but two full-length albums in 2020: The Unraveling and The New OK — both critically acclaimed snapshots of contemporary American life in tumult. 
The "DBT rock show" will kick off a nearly six-month tour schedule with its Maha performance.
Shovels & Rope
Shovels & Rope are Michael Trent and Cary Ann Hearst, a husband-and-wife duo known for blending traditional folk, rock & roll, and country rock. They're ready to hit the road, stopping at Maha while crisscrossing the US playing the country's best theaters and indie venues this summer and fall. 
Based in Charleston, South Carolina, Shovels & Rope are founders of the city's popular High Water music festival.
The duo has recently collaborated with artists like The War and Treaty, Sharon van Etten, and M. Ward for a kid-friendly covers album, Busted Jukebox Vol. 3 (nicknamed Busted Juicebox).  
Dirt House
The Come Over EP is a must-listen from this female-fronted indie pop band with Omaha's most-talented musicians.
J. Crum
Rapzilla's Best New Artist of 2021 ✔️
New music coming soon with L3XDIVINE called Pipe Dream, out on May 28 ✔️
Trackstarz 2021 Next Up List ✔️
Omaha Entertainment and Arts Award winner for Outstanding Hip-Hop/Rap ✔️

… and the list goes on. Check out J. Crum now!
Kethro
There is no better person or DJ to get the day moving at this year's Maha Festival. Period.
Crabrangucci
As one of the hardest-working DJs in Omaha, she'll be living up to that title by gracing the stage between acts all throughout the day at Maha.